Introducing Spinal Jaxx
An expandable lumbar fusion device.
NeuroPro Spinal Jaxx, Inc. is pleased to present its innovative expandable lumbar interbody fusion device. The device is intended for use in spinal fusion surgeries and allows surgeons to customize the implant to the specific anatomy of the patient. The proprietary instrumentation also allows the surgeon to effectively fill the implant with auto graft after implantation and set the implant to the desired expansion level.
Explore the Spinal Jaxx Implantation Procedure
The Superior Spinal Implant.
Why Spinal Jaxx? Our device is made from titanium (endplates that contact the vertebral bodies) and PEEK (body of the implant). The surgeon also has the option of using a Spinal Jaxx version that includes a unique titanium scaffold with interconnected pores on the endplates for a superior interface with the bone.
Instruments that enable the surgeon to pack additional autograft through portals in the implant after it has been implanted and expanded;
A locking mechanism that prevents the collapse of the device once it is expanded;
Titanium endplates that contact the vertebral bodies;
Wide ranging expansion capability allows for small implants to be inserted and still adequately expand to fill the interbody space.
Custom Tools for Expert Precision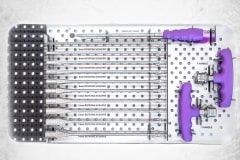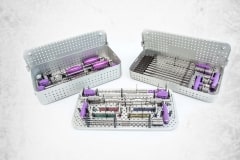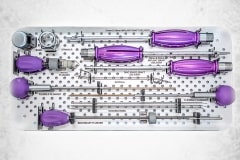 Personalized Medicine for All
Spinal fusion surgery is a procedure to correct problems with individual vertebrae, the interlocking bones making up the spine, by preventing movement of the affected bones. Although some early generation expandable implants have been introduced, the most commonly used device for posterior lumbar interbody fusions is a fixed size PEEK or titanium cage inserted between the vertebral bodies by "hammering in" the device to make the patient's spine conform to the manufacturer's implant.
To avoid causing invasive damage by "hammering in" too large a device, a surgeon may have to choose a smaller implant, thereby risking inadequate disc height restoration and nerve root decompression, and increasing the possibility that the implant will be expelled.
There is a growing desire among surgeons to reduce the risk of harm to the patient with minimally invasive techniques. Spinal Jaxx implants meet that need and take a leap forward in personalized medicine in the spine. Spinal Jaxx devices conform to the particular anatomical needs of each individual patient. Our design allows the surgeon to insert the device between the vertebral bodies through a small opening and expand in situ to a larger size as needed, providing a snug fit.
Spinal Jaxx allows for an infinite number of height selections within the minimum and maximum heights of a particular implant. No hammering or adjusting the patient's anatomy is required.
Spinal Jaxx Press Releases
Exciting Investment Opportunities Available
NeuroPro is currently developing other expandable devices built on the same patented technologies as Spinal Jaxx. Contact us to learn more.
Send Us a Message